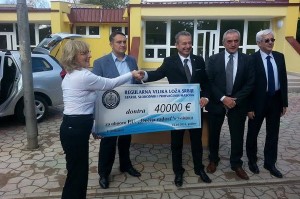 Representatives of the Regular Grand Lodge of Serbia, led by Grand Master Ranko Vujačić, presented a donation in the amount of 40.000 eur to the Preschool Institution "Dečja radost" in Svilajanac, which was heavily damaged during the May floods in Serbia.
"It is a special pleasure for us to help the youngest. We have collected donations from our members and our friends from abroad and we are planning, besides this, to help some other institutions in Serbia" stated Ranko Vujačić, Grand Master of the the RGLS, handing over the donation.
Thanking for the donation, Svilajnac Mayor Predrag Milanovic pointed out that this donation will help the kindergarten to start working with full capacity until December, and that the money is intended for the yard reconstruction and building of the playground.
Stating that the whole yard with kindergarten game rooms was damaged, Zorica Đorđević, the director of the PI "Dečja radost", added that the kindergarten will get a new, modern playground thanks to this donation, which is very important since playing is one of the main activities in children's upbringing and education.